---
Denton's Upcycled Fashion Show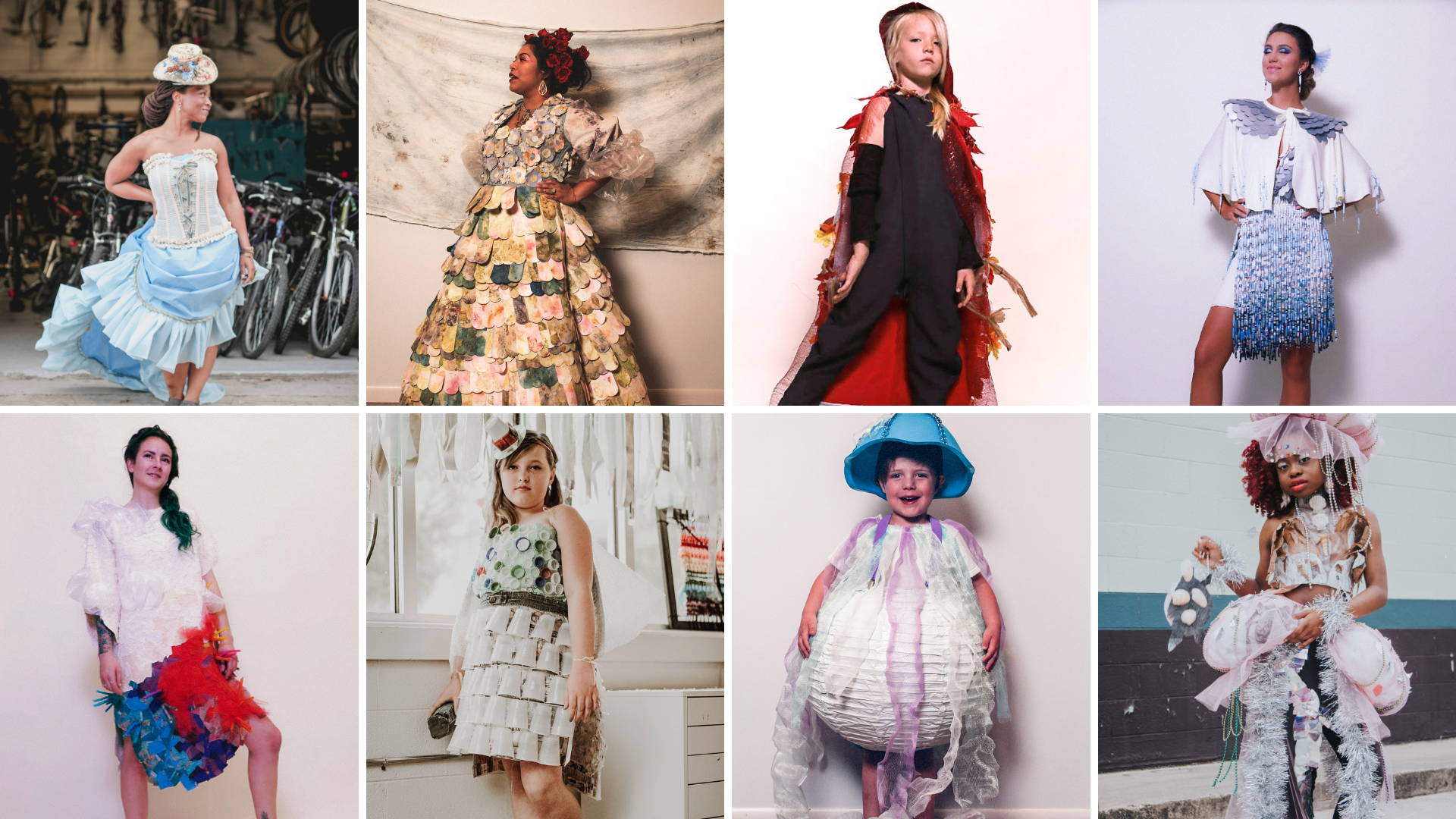 Reuse Runway at the Denton Redbud Festival 2022
The Reuse Runway program (formerly known as Trashion Fashion) is a sustainable fashion design competition for all ages and skill levels. Designers create a wearable work of art made of items destined for the wastestream or recycling. Participants become knowledgeable about problems associated with waste generation and then express them through fashion and artistic design.
Thistle will hold a series of optional, virtual workshops to help participants build skills to bring their designs to life.
The runway show will be held at The Denton Redbud Festival on April 23rd 12-1 PM.
Registration closes March 4, 2022. Registration fee is nonrefundable. There may be up to 3 designers per team/entry.
Join us for a virtual informational meeting on February 22, 2022 from 6-7 pm.
Thistle is committed to this event being accessible to
all
. If the registration fee will place a financial burden on you or your family please email us to apply for a registration scholarship:
hello@thistlecreativereuse.com
1. Fashions must be made from at least 75% reuse or recyclable materials that would otherwise be thrown away or recycled or materials purchased or found secondhand. Thrifted items are acceptable as they are considered what is called reuse materials. Fashions can include cardboard, steel/tin, repurposed fabric or clothing, aluminum, plastics, paper cartons, chipboard, newspaper, mixed papers (magazines, junk mail, and catalogs), paper bags, glass and more. Used clothing will only be accepted if it has been significantly repurposed and redesigned into something substantially "new."
2. Contest pieces must be durable enough for wear throughout the runway show, and optional photo shoot.
3. Each designer/team must submit an environmental fact by March 25th that connects their design with resource conservation, climate change, or some other facet of environmental sustainability. These facts will be printed in the digital program for the event along with the participants profile. The fact must cite source(s) and relate to the piece or materials in their piece in some way. The fact may not be longer than 200 characters. The fact MUST use reputable sources to back up all claims made. We will provide a free virtual research workshop for all participants.
4. Each designer/team must submit a list of the top 5 most-used materials in their piece by March 25th.
5. Design teams may have up to, but no more than, 3 people.6. Each designer/team must submit a short, 5 minute video in which they answer predetermined questions about their piece and the creation process as a part of the judging process.
7. Each entry must provide their own model. The model does not have to be a part of the design team.
8. For every optional workshop that a designer/team attends, they will receive 1/2 point toward their final score.
9. Participants must attend their judge interview on Saturday April 9th and the runway show rehearsal on Friday, April 22 from 5:30 pm - 7 pm.
Prizes will be awarded in each of the following categories:
Best overall design in each age category (Age category is based on designer's age; if an adult makes a garment for a child then she/he/they will be judged in the adult category)
Ages
6-9
10-12
13-17
18-25
26 and older
'Best of' Categories (chosen from across all age groups)
Most creative use of materials
Best environmental message
Online Favorite (chosen before runway show by vote)
Best fashion photo (the designs are photographed by ATC's Commercial Photography Students)
Reuse Runway at the Denton Redbud Festival 2022
| | | |
| --- | --- | --- |
| Date | Time | Event |
| Jan. 13 + 24 | 6 PM | Virtual Information Meeting |
| Feb 22 | 6 PM | Virtual Information Meeting |
| Feb 24 | 5:30-7:30 pm | Open studio + Brainstorming time at Armadillo Ale Works |
| March 4 | 6 PM | Registration Closes |
| March 6 | 3-5 PM | Open studio time at Armadillo Ale Works |
| March 8 | 6:30 PM | Virtual Library Research Workshop |
| March 21 | 6:30 PM - 7:30 PM | Virtual Intro to Basic Hand Sewing: Learn a running stitch and how to sew on a button w/Donna Gregory |
| March 24 | 5:30-7:30 pm | Open studio + Finishing Touches at Armadillo Ale Works |
| March 25 | 6 PM | First draft of virtual program information due |
| April 1 | 6 PM | Final draft of virtual program information due |
| April 3 | 6 PM | Short videos due |
| April 9 | 8 AM | Professional Hair and Makeup by Ogle Beauty School |
| April 9 | 9 AM | Mandatory Judging Interviews Begin |
| April 9 | 10 AM | Photo Shoot Begins |
| April 22 | 5:30 PM | Mandatory Runshow Show Rehearsal |
| April 23 | 12 - 1 PM | Runway Show at the Denton Redbud Festival |
| May 7 | 4-5 PM | Extra Runway Show at Armadillo Ale Works |
Optional Photo Shoot
Denton ISD's ATC Photography students will be photographing models in pieces on April 9th in and around Thistle Creative Reuse. Ogle Beauty School will provide professional hair and make up.